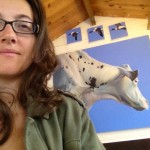 Message from Alison Jacobs, local artist.
I am writing you to ask a favour. Some of you may have heard all about this already so apologies if this is old news.  Myself and a group of hard working, slightly mad artists, a designer, poet and Somerset entrepreneur/project manager are trying to get a new art gallery and artists' studios off the ground called Contains Art.
We are recycling 3 shipping containers and building this installation on the Quayside at Watchet, with temporary planning permission for 3 years.  We will be running it as a not-for-profit community interest company for the benefit of the wider community and for "creatives" in particular.  This is where you come in!
Can you help us raise funds?  And would you like to be involved?  You can do both by only spending 60p on a first class stamp and entering our Postcard Exhibition.  The idea is for artists to create a fantastical postcard and donate it to us to exhibit and sell to help get the project off the ground.  This way you are helping us and are also involved and in contact with Contains Art which will hopefully provide an interesting and relevant program of events that you might be able to benefit from over the next three years.  You never know, if we are lucky and this is a roaring success we may even be able to extend on into the future.
Details about the postcard entries can be found at www.containsart.co.uk – closing date is 1st July.  The exhibition opens on the 6th July.
Thank you so much for your help.
Alison