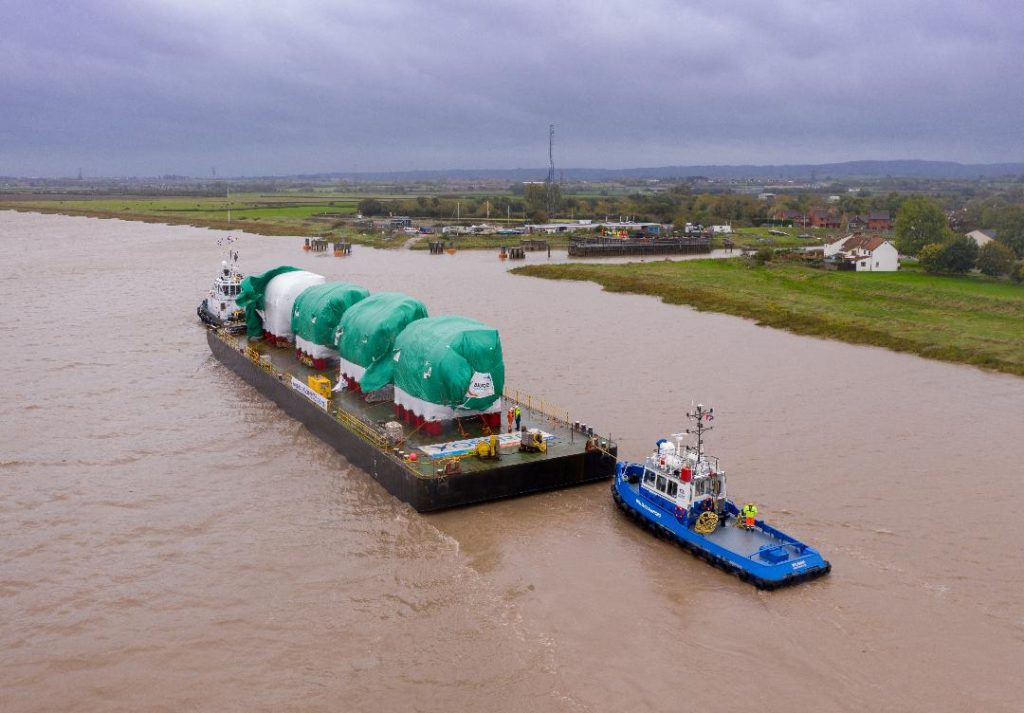 The latest information on the refurbishment of the Combwich Wharf and much more is below. (Just click on the green text below)
As part of the Hinkley Point C project, works are underway to refurbish the current wharf in Combwich. This will allow large loads to be delivered by sea. For the latest information, please visit the Frequently Asked Questions on the Hinkley Point C website –
or
Combwich Wharf Update – January 2021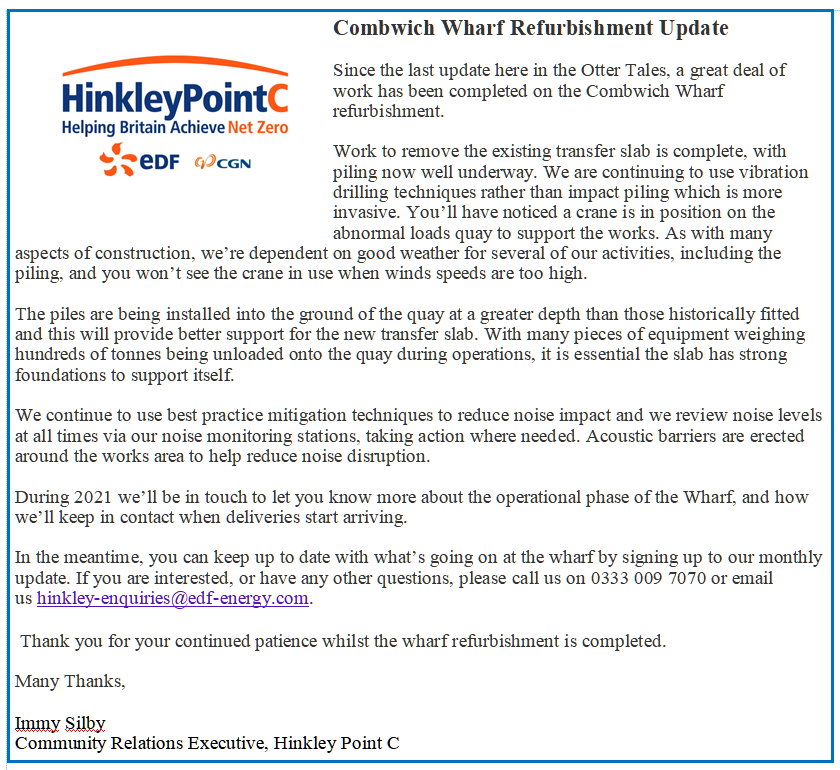 Hear from Hinkley Point C Managing Director, Stuart Crooks, and find out more about the construction of the first nuclear power station to be built in a generation.
January 2020 Update
On Thursday 9th January we presented the latest plans for the refurbishment of Combwich Wharf to Otterhampton Parish Council and local residents.
2020 will see us enter the main phase of works on the wharf, with construction activity at its peak. Over the coming months, demolition of the Abnormal Loads Quay is planned to take place to reduce its height.
Following this, piling activity is due to begin in late Spring to construct the foundations which the Transfer Slab will sit on. The piling works will be completed using reduced sound methods, therefore limiting the impact of construction on local residents.
Once the piling activities are complete, works would start on construction of the Transfer Slab. This is the area onto which deliveries will be offloaded from the vessel. It forms a large part of the Abnormal Loads Quay.
We are anticipating that the bulk of works will be completed by the end of this year, before deliveries commence in 2021. You can still expect to see activity at the wharf into next year though, as the construction team carry out the final pieces of work, such as landscaping.
For more information click,  or call us on 0333 009 7070.
If you would like to see the presentation which was presented at the latest Parish Council Update, please see here 
Combwich Wharf – Deliveries so far
Combwich Wharf has already facilitated a number of deliveries for Hinkley Point C, learn more about the deliveries here…
The background to  the issues in relation the redevelopment of Combwich Wharf and associated developments are below.
This parish has had a long association with Hinkley Point nuclear power station with many retired and current employees living in the area.  Many people are sympathetic to the notion of a new power station and have always known that one day Combwich Wharf would be used to bring in very large loads for the building of the station.  There was therefore no real concern with EDF's initial proposals for the use of the Wharf for these large loads, but when during their Stage 2 consultation the development of a huge freight logistics area and 12 metre high fabrication sheds were discovered, there was outrage in the village.
Since then, the parish council and the community have managed to scale back these proposals a little, but there were still major problems with the proposals which EDF  submitted to the Infrastructure Planning Commission (IPC) now renamed the Planning Inspectorate.  The parish council has made a detailed submission to the examining panel and an Issue Specific Hearing focusing on Combwich was held on 24th August 2012.  The panel has finished taking evidence and is considering all the submissions made to them.  It is expect they will report to the Secretary of State early in 2013.
As time went by EDF concluded that a huge laydown at combwich was no longer necessary and the concerns villagers had were dispelled
Follow the links below to find out more about how the parish council responded to the challenges