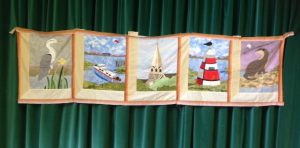 On behalf of the Combwich Crafters I would like to make it known that our group is making a wall hanging for the Village Hall. In its construction we are adding a wall (in fabric) of individual bricks which will be for sale at £5 a brick. Each brick will have the buyers (or family or friends) name on it. The money raised will be passed on to the Village Hall Committee for its refurbishing fund.
If anyone is interested in purchasing a brick, please contact me Sue Jacobs 01278 652450 or call into our group meetings on Wednesday mornings in the Hall between 10am and 12 noon. We will be there on the following dates: –
October 5th & 12th
and
November 2nd, 9th, 16th, 23rd, and 30th.
Sue Jacobs