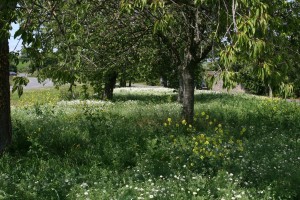 This Autumn marks the first Anniversary of the beginning of the Combwich Wildflower Project. It has been supported by many people in the Village and this has been much appreciated by our little team.
We….the committee…..Maureen, Liz, Louse and Christine…started the project later than hoped due to the poor weather both before and after Christmas. After removing the turf the whole area looked miserable with lots of extremely large puddles appearing.
Finally the weather did improve and the ground dried up enough for sowing the seed.  It was exciting to see the first swathes of green. By Midsummer most people agreed that the site was a picture.
Now the seeds are setting and it all looks a bit sad and very Autumnal.  Very soon we will cut it all down and remove the dead material once we are sure that all the seeds have had a chance to drop.
We appreciate that it is difficult to have a vision of how the site might look over the next few years but it will become better every Summer with more flower species appearing. In Spring primroses, daffodils, anemones ,snowdrops, fritillaries and bluebells will appear and the whole cycle will amazingly begin again.
We do hope that those people who have reservations will give the project a chance to grow and to give a much needed home to bees, butterflies and pollinators. Next year you are invited to come and walk  through a path which will wind through the meadow and perhaps pick a few flowers.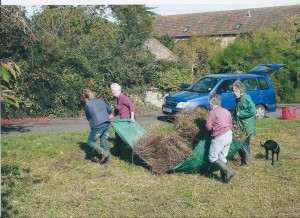 Finally we would ask anyone who wants to speak to us about the project, the vision and it's purpose and to put your opinions either for or against  then please do feel free to ring any of us i.e
Maureen Lloyd-Williams…652998
Liz Brown….652687
Louise Bailey….652540
Christine Birkan….652646
Ring anytime  or speak to us directly. We really do welcome your comments and ideas.