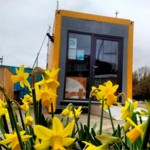 contains art, the brand new art gallery on the habourside in Watchet starts its 2014 exhibitions on 28th March.
The opening exhibition runs until 10th April, and offers an exciting chance to see new and current artwork by the Contains Art studio holders all together in one exhibition. Artists exhibiting are: Alison Jacobs, Sue Lowe, Mel Deegan, Angie Wood, and Leah Hislop, who joins us this spring having been awarded the Golsoncott Foundation Emerging Artist Residency at Contains Art for 2014.
The gallery is open daily from 10am to 4pm, at Contains Art, East Quay, Watchet Harbour, Somerset, TA23 0AQ
Take a look at the flyer for the special preview open evening on 27th March at 6 pm.