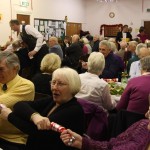 "The social highlight of the year" was how many attendees at the Senior Citizens Christmas Dinner in the village hall described the event this year. An annual three course Christmas Dinner with coffee and mints to follow and supplemented by copious amounts of wine was organised by the OPRA Committee and assisted by many volunteers.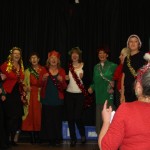 Our thanks to Matt at the Anchor who cooked the turkey and roast potatoes; the vegetables were cooked by members of the committee and the home made soup and bread rolls prepared by Jacki Sparks. All brought together by "Chef" Ray Bollen.
Entertainment was provided by the Combwich Choir with renditions of popular music led by Nicole Wigley and earlier in the evening we heard from guitarist David Gardener. A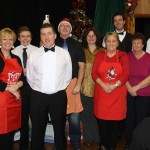 raffle raised £154.
This event was one of many organised by the OPRA team throughout year the with the help of willing volunteers to whom we are very grateful.