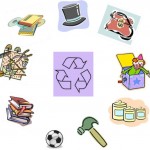 With UK industry in decline, unemployment on the rise, household incomes at their lowest level for years and properties being repossessed at a rate of one every 14 minutes, there's little wonder the nation is getting thrifty!
It was recently estimated that the average UK home has nearly £600 worth of unused items. Collectively, we all own millions of £'s worth of equipment, tools, sports gear, musical instruments, home and garden items, as well as clothes and accessories, books, CD's and gadgets – all sitting idle!  WRAP recently revealed that 1.7 billion items of clothing haven't been worn for over a year!  All this stuff sitting idle or, worse, some of it eventually getting sent to landfill!
With the UK economy unlikely to get any easier for some time, sharing, hiring, swapping and borrowing is now on trend. Transition movements are on the increase and the resurrection of the good old fashioned concept of sharing with your neighbours is beginning to return to our lives. The latest phrase for this type of trading is "collaborative consumption" or the "sharing economy" and websites like www.theborrowers.co.uk are ideally positioned to support this renewed activity.
On Saturday 6th October The Borrowers bring to the village the first ever Combwich Shwop – a new type of marketplace where you can bring along up to 10 of your unwanted items and swap them for something more useful, without any money changing hands.  There are strict rules about a Shwop but it's set to be a fun event for all the family.
Any remaining items will be donated to Little Otters and the charity CLIC.  Admission is £2 which includes a cup of tea, coffee or juice and Lyn and Robert will be on hand selling their delicious home-made cakes. For more details, see the "What's On" page and click on the calendar event.
Hope to see you there.