Combwich Motor Boat and Sailing Club
---
Combwich Short Mat Bowls Club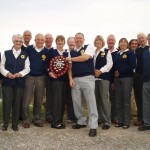 2012 saw Combwich Short Mat Bowls Club celebrating its 25th Anniversary.  The club was formed in 1987 when the roof space above Otterhampton Village Hall was converted by a group of local bowls enthusiasts to provide what is still the only permanent and full time Short Mat Bowls venue in the area, if not the whole of Somerset.
The club which currently has 21 members plays league matches within the Taunton & District Short Mat Bowls League which is in turn affiliated to the Somerset Short Mat Bowls Association.
There are 1st & 2nd divisions in the Taunton league and Combwich  currently play in league division 2 having been relegated from division 1 at the end of last season.
There are approximately 10 teams in each league and matches are played home and away between September and March.
As well as playing league matches in the winter months we also have a very good program of friendly matches throughout the summer months.  These matches are just for fun but they do help us to keep our eye in whilst waiting for the league to restart.
In addition to playing other local clubs we have an internal knock out competition to find the best Single Player and the best pair for the year. The winners for 2012 were Don & Lynne Miller in the Pairs and Lynne Miller in the Singles.
Players from Combwich will very often play in charity tournaments throughout the year; these events are normally all day affairs (unless you get knocked out early) and are not restricted to players within any particular league.
The club meets for roll ups (practise) on Mondays and Wednesdays between 7.30pm & 9.30pm.
Note: Membership is currently fully subscribed.  Anyone wishing to go on the waiting list should contact Marcus on 01278 652971.

Take a look at a brief history of short mat bowls (on the ESMBA website)
---
Fitness Classes
Come and join our fun and friendly exercise classes held in the Village Hall on Tuesday mornings.
Aerobics is at 9.30-10.30am and is suitable for all ages and abilities. It aims to improve general fitness and can also help towards weight loss.
Pilates is held at 10.35-11.35am and again is suitable for all ages and abilities. This aims to improve core stability, balance and posture, as well as helping to strengthen and tone. Great for bad backs, It's gentle and controlled movements help to realign the body without putting any stress or strain on the joints.
Classes are taught by a qualified instructor and accredited member of the Register of Exercise Professionals. They are run on a pay as you go basis and are priced at £4.50 per class (senior citizen £4) or £7.50 for both classes (senior citizen £7).
For more information call Cally on 01278 651214 or 07825 817728 or email callylouisewills@hotmail.co.uk
---
OPRA Sunday Walks
The lovely countryside around the parish and sometimes further afield is explored on Sunday morning walks.
These are usually held on the third Sunday of the month throughout the year, though this sometimes changes, and they start from the Anchor.
The emphasis is on enjoyable walking and good company though some are designed for the more experienced walker.  Details including whether the walk is easy, moderate or difficult are on the What's On page and on village noticeboards. Regular walkers are also contacted by email.
Just to make that we don't get carried away by all this keep fit stuff we usually end up at the pub for a Sunday lunch.
Contact Barry Leathwood on 01278 652399