1st Combwich Brownies
Meet on during term time on Monday evenings at 6:45pm at Otterhampton School Hall.
The Brownie group welcomes girls between 7 and 10 years of age from all surrounding villages.
It costs £20 per term.  The waiting list is held by Liz Brown (652687).
For more information email Rosie Keene or phone on 733121.

---
Little Otters
Little Otters (Combwich) Pre School was established in 1971 by a group of dedicated parents wishing to give their children and others the chance to meet and play happily in a safe environment.  We have evolved over the years into a vibrant, lively and successful setting. We have recently moved from being a committee run charity to working as part of Otterhampton Primary School to offer extended care to all our families.
Our aim is to provide a safe, happy and stimulating setting where children can mix with others and play under the supervision of adults other than their own parents.
We follow the Early Years Foundation Stage curriculum and guidance (updated in September 2012) which continues into your child's first year at school. Most of the session is devoted to free play where the children are offered a range of activities including drawing, painting, craftwork, cooking, sand and water play, play dough, energetic play, simple computing, construction toys, games and puzzles, imaginative play and books.  They are also encouraged to participate in group activities such as stories, music, games and discussions.  The availability of an extensive outside play area means that the children play outside for a part of most sessions.
We are proud of our dedicated and enthusiastic staff, who are all fully qualified and experienced in early years. Our Pre-School leader holds a BA hons degree in Teaching and is currently studying for her Early Years Professional Status.
The Pre-School is registered and inspected by OFSTED and our latest inspection gave us an outcome of 'Good' overall but with some areas judged to be 'Outstanding'.
We accept the Government Early Years Entitlement (commonly known as nursery vouchers).
We have vacancies for children from 2 years to 5 years and offer sessions each weekday, Monday to Friday, from 3.15pm to 5.15pm. Your child can come all day or just for a morning or afternoon session. There is also the facility, provided by Otterhampton School, for children to attend Otters Den wrap around care facility from 7.45am to 8.45am and from 3.15pm to 5.15pm.
Little Otters welcomes enquiries and visits to our setting – just call us on 01278 652487 and ask for Julie Salter or email office@otterhampton.somerset.sch.uk.
Take a look at our webpage Little Otters.
For more information on the EYFS visit www.foundationyears.org.uk.
---
---
Otterhampton Primary School
See the website for our village school.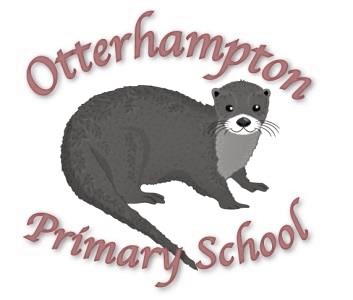 ---